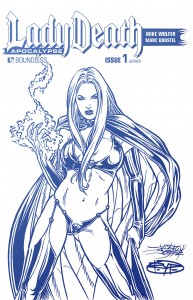 Many Lady Death fans have some of the most extensive comic book collections around.  It is popular with this iconic character's history of stunningly beautiful covers to collect the many visions of Lady Death presented.
The new Boundless Comics relaunch has you "covered" if you are one of the many trying to get all the variants.  In the December Previews there is an offering for the Lady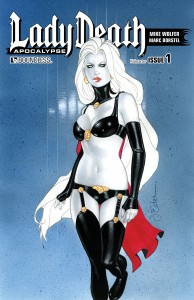 Death: Apocalypse #1 Deluxe Collector Box Set.  This special offering is an over $200 value for $79.99 and includes:
-All eight Lady Death: Apocalypse #1 covers
-All four Lady Death TPs – LD Origins Vol 1&2 and Lady Death Ongoing Vol 1&2
– Special Lady Death Poster signed by Brian Pulido and Mike Wolfer
-Two box set exclusives – Lady Death Apocalypse #1 VIP and the Variant Leather Cover Edition
The set is limited to only 500 so ask your local comics retailer to reserve one for you today.